Young Living copaiba essential oil (Copaifera reticulata) is known for its gentle, woodsy aroma and is a product of steam distilling the gum resin tapped from the tree in Brazil. With high levels of beta-caryophyllene and a uniquely sweet aromatic profile, Copaiba oil helps create a relaxing atmosphere when diffused or applied topically.
Copaiba is a great addition to your daily routine and skin care. Add it to a neutral moisturizer to utilize its natural fragrance and moisturizing properties. It can also be applied following activity for a comforting cooldown.
Related Posts
Botanical Family: Fabaceae
Plant Origin: Brazil
Extraction Method: Steam distilled (vacuum distilled) from gum resin exudate from tapped trees
Chemical Constituents:
Alpha-Copaene (2-5%)
Alpha-Humulene (6-10%)
Beta-Caryophyllene (39-72%)
Delta-Cadinene (2-3%)
Delta-Elemene (2-3%)
Germacrene D(4-6%)
Trans-Alpha-Bergamotene (3-11%)
Note: The word "Copal" is derived from the Spanish word for incense (copelli) and can refer to any number of different resinous gums or exudates from trees in Malaysia and South America. Copals are known as black (Protium copal), white (blanco) (Bursera bipinnata), gold (oro) (H. courbaril), and Brazilian (Copaifera langsdorfii or reticulata). Only Brazilian copal or copaibi has a GRAS distinction in the U.S. and has the most published research.
How To Use
Topical: Apply 2-4 drops directly to desired area. Dilution not required, except for the most sensitive skin. Use as needed.
Aromatic: Diffuse up to 1 hour 3 times daily.
Caution: Keep out of reach of children. For external use only. Keep away from eyes and mucous membranes. If you are pregnant, nursing, taking medication, or have a medical condition, consult a health professional prior to use.
Add to a moisturizer or skin cream to help enhance the appearance of healthy-looking skin.
Apply to focused areas after activity.
Dilute with V-6™ Vegetable Oil Complex for a post-workout massage oil. For an added cooling sensation, combine with Peppermint or Wintergreen.
Diffuse to create a warm, inviting space. Try a custom diffusing blend by adding oils such as Cedarwood or Cinnamon Bark.
Create a natural beard oil with Copaiba, a lightweight carrier oil, and a complimentary oil such as Northern Lights Black Spruce or Peppermint.
BLENDS containing copaiba essential oil
NUTRITIONAL PRODUCTS containing copaiba essential oil
PERSONAL PRODUCTS containing copaiba essential oil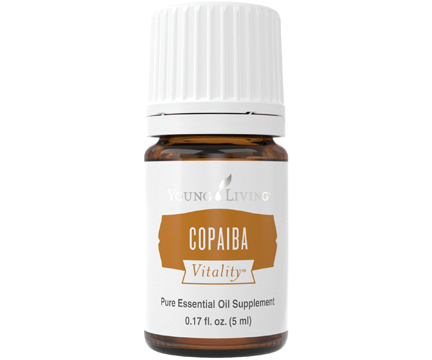 See Copaiba Vitality
Same premium oil.
Different label for use as
DIETARY SUPPLEMENT.
* This statement has not been evaluated by the Food and Drug Administration. This product is not intended to diagnose, treat, cure or prevent disease.