Young Living clove essential oil (Syzygium aromaticum) promotes a healthy immune response, and may support overall wellness*. This oil includes the naturally occurring constituent eugenol.
Recent Posts
Related Posts
Botanical Family: Myrteceae
Plant Origin: Madagascar, Spice Islands
Extraction Method: Steam distilled from flower bud and stem
Key Constituents:
Eugenol (75-87%)
Eugenol Acetate (8-15%)
Beta-Carophyllene (2-7%)
ORAC: 1,078,700 µTE/100g
How To Use:
Dietary Directions:Dilute 1 drop with 1 drop of a carrier oil such as V-6 Vegetable Oil Complex or olive oil. Put in a vegetarian gel capsule and take up to 3 times daily or as needed.
Caution: Keep out of reach of children. If you are pregnant, nursing, taking medication, or have a medical condition, consult a health professional prior to use.
BLENDS containing clove essential oil
NUTRITIONAL PRODUCTS containing clove essential oil
PERSONAL PRODUCTS containing clove essential oil
Slique Toothpaste
Thieves Breathmints
Thieves Fruit and Veggie Wash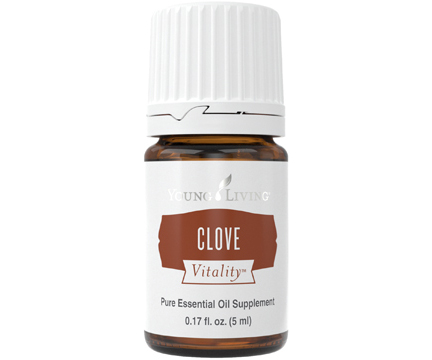 See Clove Vitality
Same premium oil.
Different label for use as
DIETARY SUPPLEMENT.
* This statement has not been evaluated by the Food and Drug Administration. This product is not intended to diagnose, treat, cure or prevent disease.