Lemon essential oil (Citrus limon) is cold-pressed from the rinds of lemons, giving its aroma all the brightness of the freshly picked fruit. Cheerful, sweet, and nostalgic, Lemon oil can eliminate odors and infuse your whole home with its clean, lemon-drop scent when diffused.
With its bright and joyful aroma, Lemon oil benefits skin and hair as much as its aroma benefits your environment. Your teens can add a drop to their evening moisturizer to reduce the appearance of blemishes, while you can add it to your conditioner for an aromatic treat that smooths and shines the look of your hair. Because some citrus oils like Lemon can cause photosensitivity, avoid applying to exposed skin before spending time outside.
Related Posts
Botanical Family: Rutaceae
Plant Origin: California, Italy
Extraction Method: Cold pressed from rind. It takes 75 lemons to make one bottle of 15ml lemon oil.
ORAC: 660 µTE/100g
Key Constituents
Limonene (59-73%)
Gamma-Terpinene (6-12%)
Beta-Pinene (7-16%)
Alpha-Pinene (7-16%)
Alpha-Pinene (1.5-3%)
Aabinene (1.5-3%)
How To Use
Topical: Dilute 1 drop with 1 drop of V-6™ or olive oil and apply to desired area as needed.
Aromatic: Diffuse up to 1 hour 3 times daily.
CAUTIONS: Keep out of reach of children. For external use only. Keep away from eyes and mucous membranes. If you are pregnant, nursing, taking medication, or have a medical condition, consult a healthcare professional prior to use. Avoid direct sunlight or UV rays for up to 12 hours after applying product.
Boost your home cleaning with the cheerful scent of fresh Lemons! Add a few drops to naturally derived floor, window, and surface cleaning solutions. Do not use Lemon oil on granite or stone, as it may etch the surface.
Make Lemon part of your beauty routine, adding it to skin care products to reduce the appearance of blemishes or to conditioner and DIY hair masques to give your hair a smoother, shinier look.
Diffuse Lemon alone or with other citrus and crisp-smelling oils such as Tangerine, Grapefruit, Orange, Bergamot, Rosemary, Tea Tree, Tarragon, and Eucalyptus Radiata to create an aromatic environment that is clean-smelling and positive.
BLENDS containing lemon essential oil
NUTRITIONAL PRODUCTS containing lemon essential oil
PERSONAL PRODUCTS containing lemon essential oil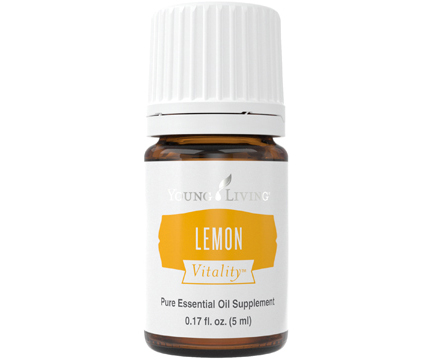 See Lemon Vitality
Same premium oil.
Different label for use as
DIETARY SUPPLEMENT.
* This statement has not been evaluated by the Food and Drug Administration. This product is not intended to diagnose, treat, cure or prevent disease.