Orange essential oil (Citrus sinesis), cold-pressed from the rinds of oranges, has a juicy aroma reminiscent of the fresh fruit. Orange oil offers a sweet, peaceful aroma that can fill a room with a sense of peace, harmòny, and creativity.
Try making Orange essential oil part of your morning routine—either diffused or applied topically—to start your day off with an inspiring boost of citrus aroma. Orange, like other citrus oils, can cause photosensitivity, so avoid applying it to exposed skin before spending time out in the sun. Orange is delightful on its own, or you can combine it with complementary oils such as Lemon, Tangerine, Grapefruit, Cinnamon, Neroli, or Patchouli.
Related Posts
Botanical Family: Rutaceae
Plant Origin: USA, South Africa, Italy, China
Extraction Method: Cold pressed from rind
Key Constituents
Limonene (85-96%)
Myrcene (0.5-3%)
ORAC: 1,890 µTE/100g
How To Use
Caution: Keep out of reach of children. If you are pregnant, nursing, taking medication, or have a medical condition, consult a health professional prior to use. If contact with skin occurs, avoid direct sunlight or UV rays for up to 12 hours.
Diffuse Orange essential oil in your children's play areas. They'll love the sweet, playful scent!
Depending on what you choose to blend with it, Orange is a great seasonal scent for both warmer and cooler months. Diffuse Orange with Lime, Lemon, or Tangerine for a sunny warm-weather scent, or diffuse it with Cinnamon and a hint of Clove for a festive smell perfect for the holidays.
Even clean linens may need a little freshening. Combine 8–10 drops with distilled water or witch hazel in a small spray bottle and spritz over linens and in closets to keep your sheets, towels, and clothes smelling great.
Orange Tips
Diffuse Orange on its own or with complementary oils such as Stress Away, Grapefruit, or Lemongrass.
Add a few drops of Orange to your naturally derived cleaning solutions.
Create a DIY linen spray by filling a small spray bottle with 1 part witch hazel, 2 parts distilled water, and 10 drops of Orange. Shake and spritz over carpets and fabrics.
Diffuse Orange in children's areas to create an uplifting environment perfect for creative play.
BLENDS containing orange essential oil
NUTRITIONAL PRODUCTS containing orange essential oil
PERSONAL PRODUCTS containing lorange essential oil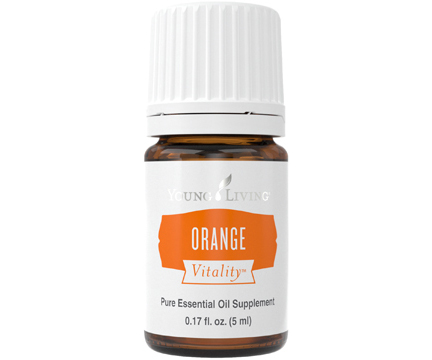 See Orange Vitality
Same premium oil.
Different label for use as
DIETARY SUPPLEMENT.
* This statement has not been evaluated by the Food and Drug Administration. This product is not intended to diagnose, treat, cure or prevent disease.