Young Living rosemary essential oil (Rosmarinus officinalis CT cineol) is steam distilled from a perennial shrub with needle-like leaves that can remain evergreen in warmer climates. The botanical, which is part of the mint family, is native to Mediterranean regions and has blue or purple flowers that give it an understated beauty. The familiar scent of Rosemary essential oil—as well as its robust, herbaceous aroma—has made it popular in aromatic and personal care products.
Rosemary essential oil uses include topical application and direct inhalation, and its complex, woodsy aroma can help create an energizing environment and promote a sense of clarity. It is found in 24 Young Living products.
Related Posts
Botanical Family: Lamiaceae
Plant Origin: Tunisia, Morocco, Spain
Extraction Method: Steam distilled from leaves
Key Constituents:
1,8-Cineole (Eucalyptol) (38-55%)
Camphor (5-15%)
Alpha-Pinene (9-14%)
Beta-Pinene (4-9%)
Camphene (2.5-6%)
Borneol (1.5-5%)
Limonene (1-4%)
ORAC: 330 µTE/100g
How To Use
Topical: Dilute 1 drop with 4 drops of V-6™ or olive oil. Test on small area of skin on the underside of arm and apply to desired area as needed.
Aromatic: Diffuse up to 10 minutes 3 times daily.
Caution: Keep out of reach of children. For external use only. Keep away from eyes and mucous membranes. If you are pregnant, nursing, taking medication, or have a medical condition, consult a health professional prior to use.
Diffuse to freshen the air and enjoy a woodsy, energizing aroma.
Combine 1 drop Rosemary with 4 drops V-6™ Vegetable Oil Complex. Dip a cotton ball in the solution and apply to a freshly washed face to help cleanse.
Add 10–15 drops to shampoo or conditioner for healthier-looking hair.
BLENDS containing rosemary essential oil
NUTRITIONAL PRODUCTS containing rosemary essential oil
PERSONAL PRODUCTS containing rosemary essential oil
Morning Start Bath & Shower Gel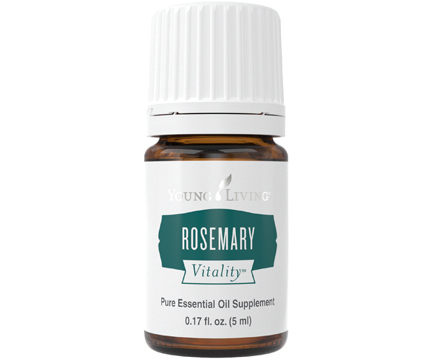 See Rosemary Vitality
Same premium oil.
Different label for use as
DIETARY SUPPLEMENT.
* This statement has not been evaluated by the Food and Drug Administration. This product is not intended to diagnose, treat, cure or prevent disease.