Oregano essential oil (Origanum vulgare)  – The herb shines in Italian and Mediterranean cuisine; but as an essential oil, it has a wealth of benefits and uses outside the kitchen. Oregano essential oil's warm, herbaceous scent is excellent at purifying the air when diffused with oils such as Peppermint. It also pairs especially well when combined with V-6™ Vegetable Oil Complex and used in massage.
The word oregano originates from the Greek words oros and ganos, meaning "joy of the mountains." The herb is believed to have been found in the mountainsides of Greece, Italy, and the Mediterranean. The oregano plant, which is now known around the world, can grow up to 30 inches tall and produces purple flowers.
Related Posts
Botanical Family: Lamiaceae
Plant Origin: USA, France, Germany, Turkey
Extraction Method: Steam distilled from leaves
Key Constituents:
Carvacrol (60-75%)
Gamma-Terpinene (3.5-8.5%)
Para-Cymene (5.5-9%)
Beta-Caryophyllene (2-5%)
Myrcene (1-3%)
Thymol (0-5%)
ORAC: 15,300 µTE/100g
Historical Data: Listed in Hildegard's Medicine, a compilation of early German medicines by highly regarded Benedictine herbalist Hildegard of Bingen (1098-1179)
Insights & Suggestions
Supports a healthy lifestyle regimen. *
Includes the naturally occurring constituent carvacrol.
How To Use
Topical: Dilute 1 drop with 4 drops of V-6™ or olive oil. Test on a small area of skin on the underside of your arm and apply to desired area as needed.
Aromatic: Diffuse up to 10 minutes 3 times daily.
CAUTIONS: Keep out of reach of children. For external use only. Keep away from eyes and mucous membranes. If you are pregnant, nursing, taking medication, or have a medical condition, consult a health professional prior to use.
KITS containing oregano essential oil
BLENDS containing oregano essential oil
NUTRITIONAL PRODUCTS containing oregano essential oil
PERSONAL PRODUCTS containing oregano essential oil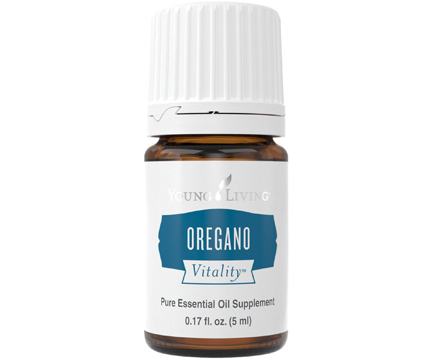 See Oregano Vitality
Same premium oil.
Different label for use as
DIETARY SUPPLEMENT.
* This statement has not been evaluated by the Food and Drug Administration. This product is not intended to diagnose, treat, cure or prevent disease.