Young Living sage essential oil (Salvia officinalis) has a spicy, herbaceous aroma. It has been recognized for its ability to strengthen the senses and vital centers of the body and to support metabolism.* It is helpful for supporting the respiratory, reproductive, nervous, and other body systems.* Sage may help alleviate occasional nervous irritability and mental fatigue. It is used traditionally in Europe for the skin and to cleanse and purify the home from negative influences.
Related Posts
Botanical Family: Lamiaceae
Plant Origin: Spain, Croatia, France
Extraction Method: Steam distilled from leaves
Key Constituents:
Alpha-Thujone (18-43%)
Beta-Thujone (3-8.5%)
1,8-Cineole (Eucalyptol) (5.5-13%)
Camphor (4.5-24.5%)
Camphene (1.5-7%)
Alpha-Pinene (1-6.5%)
Alpha-Humulene (trace-12%)
ORAC: 14,800 µTE/100g
How To Use
Dietary Supplement: Dilute 1 drop with 4 drops of V-6™ or olive oil. Put in a capsule and take one daily or as directed by a health professional.
Topical: Dilute 1 drop with 4 drops of V-6™ or olive oil. Test on small area of skin on the underside of arm. Then apply to desired area as needed.
Aromatic: Diffuse up to 30 minutes three times daily.
Caution: Keep out of reach of children. If pregnant, nursing, taking medication, or have a medical condition, consult a healthcare practitioner prior to use.
Storage: Keep in a cool dark place.
BLENDS containing sage essential oil
NUTRITIONAL PRODUCTS containing sage essential oil
PERSONAL PRODUCTS containing sage essential oil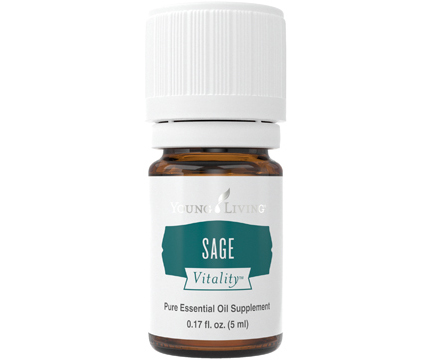 See Sage Vitality
Same premium oil.
Different label for TOPICAL use.
* This statement has not been evaluated by the Food and Drug Administration. This product is not intended to diagnose, treat, cure or prevent disease.