Discontinued Product
Consider Dill Vitality as a replacement.
Dill Essential Oil (Anethum graveolens) is produced from the distillation of the whole plant and is believed to be calming when used aromatically. This oil can be blended with Roman Chamomile to enhance any relaxing aromatic experience.
Related Posts
Botanical Family: Apiaceae
Plant Origin: Austria, Hungary
Extraction Method: Steam distilled from whole plant
Key Constituents:
Carvone (30-45%)
Limonene (15-25%)
Alpha- and Beta-Phellandrene (20-35%)
ORAC: 35,600 µTE/100g
Historical Data: The dill plant is mentioned in the Papyrus of Ebers from Egypt (1550 BC). Roman gladiators rubbed their skin with dill before each match. Listed in Dioscorides' De Materia Medica (AD 78), Europe's first authoritative guide to medicines, which became the standard reference work for herbal treatments for over 1,700 years. It was listed in Hildergard's Medicine, a compilation of early German medicines by highly regarded Benedictine herbalist Hildegard of Bingen.
How To Use
Topical: Dilute 1 drop with 1 drop of V-6™ or olive oil and apply to desired area as needed.
Aromatic: Diffuse up to 30 minutes 3 times daily.
Caution: Keep out of reach of children. For external use only. Keep away from eyes and mucous membranes. If you are pregnant, nursing, taking medication, or have a medical condition, consult a health professional prior to use.
BLENDS containing Dill Essential Oil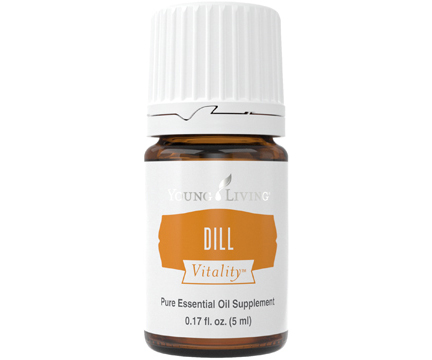 See Dill Vitality
Same premium oil.
Different label for use as
DIETARY SUPPLEMENT.
* This statement has not been evaluated by the Food and Drug Administration. This product is not intended to diagnose, treat, cure or prevent disease.