Dill Essential Oil (Anethum graveolens) has a spicy, fresh scent that is stimulating, revitalizing, and balancing.
Recent Posts
Related Posts
Botanical Family: Apiaceae
Plant Origin: Austria, Hungary
Extraction Method: Steam distilled from whole plant
Key Constituents:
Carvone (30-45%)
Limonene (15-25%)
Alpha- and Beta-Phellandrene (20-35%)
ORAC: 35,600 µTE/100g
Historical Data: The dill plant is mentioned in the Papyrus of Ebers from Egypt (1550 BC). Roman gladiators rubbed their skin with dill before each match. Listed in Dioscorides' De Materia Medica (AD 78), Europe's first authoritative guide to medicines, which became the standard reference work for herbal treatments for over 1,700 years. It was listed in Hildergard's Medicine, a compilation of early German medicines by highly regarded Benedictine herbalist Hildegard of Bingen.
How To Use
For dietary or topical use. When using as a supplement, dilute one drop in 4 fl. oz. of liquid such as soy or rice milk.
Possible skin sensitivity. If pregnant or under a doctor's care, consult your physician.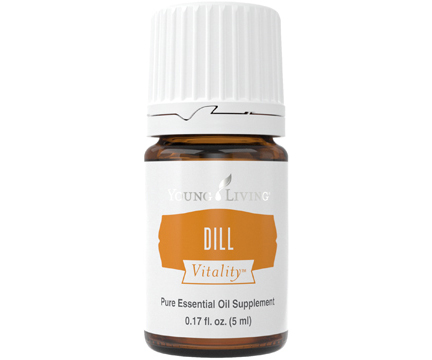 See Dill Vitality
Same premium oil.
Different label for use as
DIETARY SUPPLEMENT.
* This statement has not been evaluated by the Food and Drug Administration. This product is not intended to diagnose, treat, cure or prevent disease.