Basil essential oil (Ocimum basilicum) has a fresh, herbaceous aroma that can be calming and refreshing. Dilute with V-6 or another carrier oil when applying directly to desired area.
Related Posts
Plant Origin: India, Utah, France
Extract Method: Steam distilled from leaves, stems, and flowers
Key Constituents:
Methylchavicol (estagol) (70-90%)
Linalol (1-20%)
1,8-Cineole (Eucalyptol) (1-7%)
ORAC: 54,000 µTE/100g
How To Use:
Topical: Apply 2-4 drops directly to desired area. Dilution not required, except for the most sensitive skin. Use as needed.
Aromatic: Diffuse up to 1 hour 3 times daily.
Caution: Keep out of reach of children. For external use only. Keep away from eyes and mucous membranes. If you are pregnant, nursing, taking medication, or have a medical condition, consult a health professional prior to use.
KITS containing a 5 ml bottle of basil essential oil
BLENDS containing basil essential oil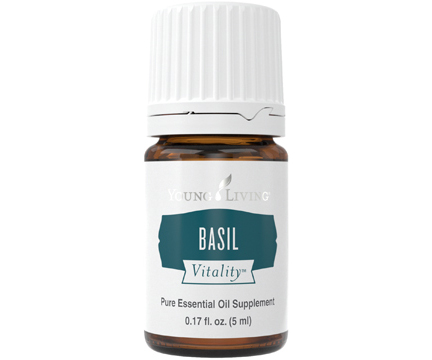 See Basil Vitality
Same premium oil.
Different label for use as
DIETARY SUPPLEMENT.
* This statement has not been evaluated by the Food and Drug Administration. This product is not intended to diagnose, treat, cure or prevent disease.