Inhaling Young Living basil essential oil (Ocimum basilcum) basil can refresh the mind and restores mental alertness, and may also sharpen your sense of smell. Also useful for fatigued or aching muscles, rub a few drops onto tense areas for relief.
Recent Posts
Related Posts
Plant Origin: India, Utah, France
Extract Method: Steam distilled from leaves, stems, and flowers
Key Constituents:
Methylchavicol (estagol) (70-90%)
Linalol (1-20%)
1,8-Cineole (Eucalyptol) (1-7%)
ORAC: 54,000 µTE/100g
How To Use:
Caution: Keep out of reach of children. If you are pregnant, nursing, taking medication, or have a medical condition, consult a health professional prior to use.
KITS containing a 5 ml bottle of basil essential oil
BLENDS containing basil essential oil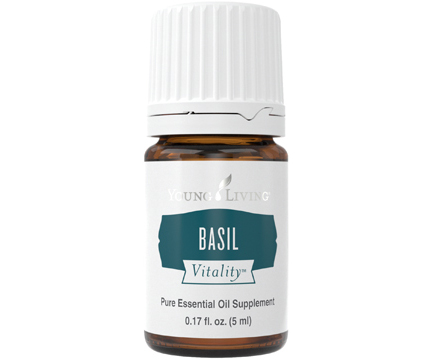 See Basil Vitality
Same premium oil.
Different label for use as
DIETARY SUPPLEMENT.
* This statement has not been evaluated by the Food and Drug Administration. This product is not intended to diagnose, treat, cure or prevent disease.