Young Living Thyme essential oil (Thymus vulgaris) may support wellness*, and can be used as a pleasant, flavorful addition to savory dishes.
Botanical Family: Asteraceae
Plant Origin: Italy
Extraction Method: Steam distilled from leaves
Key Constituents:
Methyl Chavicol (Estragole) (68-80%)
Trans-Beta-Ocimene (6-12%)
Cis-Beta-Ocimene (6-12%)
Limonene (2-6%)
ORAC: 37,000 µTE/100g
Related Posts
How To Use
Dietary Directions: Dilute 1 drop with 1 drop of carrier oil. Put in a capsule and take up to 3 times daily or as needed.
Caution: Keep out of reach of children. If you are pregnant, nursing, taking medication, or have a medical condition, consult a health professional prior to use.
NUTRITIONAL PRODUCTS containing thyme essential oil
PERSONAL PRODUCTS containing thyme essential oil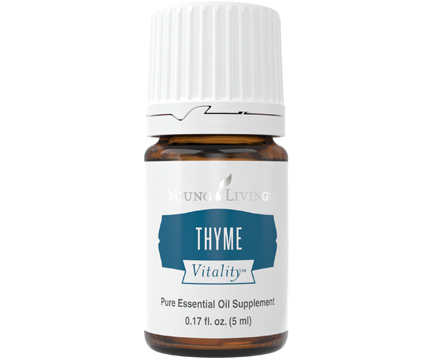 See Thyme Vitality
Same premium oil.
Different label for use as
DIETARY SUPPLEMENT.
* This statement has not been evaluated by the Food and Drug Administration. This product is not intended to diagnose, treat, cure or prevent disease.